The Certificate of Safe Space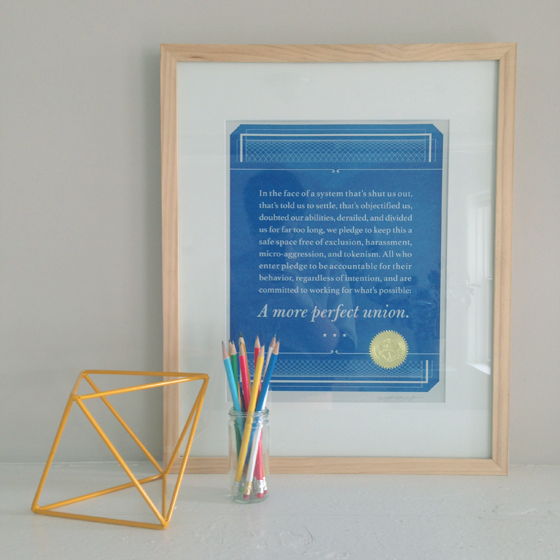 The Certificate of Safe Space
Risograph print with gold foil seal, on heavy duty archival French Paper.
The Certificate of Safe Space is for display in any environment as a general announcement that the people in the space are actively working to prevent unwanted experiences—racially, sexually or otherwise. It's also a commitment that organizations who hang this will create a simple, supportive, and unbiased claim reporting process, and make it known to all who enter.
The content for the certificates is partially from Senator Barack Obama's Presidential Announcement Speech mixed with some of my own words. The poster is intentionally genderless because everyone is at risk for sexual harassment. 54% of people experience some form of unwanted sexual attention in the workplace; 79% are women and 21% are men, and 66% were not aware of any existing workplace policies to file their claim.* At the time of writing this, no statistics were found for the rates of harassment for transgender people, though these are presumably high, judging by the 31 states with no transgender anti-discrimination laws.**
* The Association of Women for Action and Research, 2008
** American Civil Liberties Union, 2013. EDITED to add: 90% of transgender people report experiencing harassment, mistreatment, or discrimination on the job. Source: Gay & Lesbian Alliance Against Defamation (GLAAD).